Nerve repair research wins international prize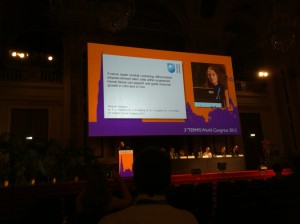 Melanie Georgiou won first prize for her presentation at the Tissue Engineering & Regenerative Medicine International Society (TERMIS) World Congress in Vienna. Melanie's abstract was shortlisted for the prestigious Oral Presentation Award Session, during which the five finalists presented their work to an expert panel, who then led a question and answer session in front of a large audience. Melanie was awarded first prize for discussing interim findings from her work using stem cells from adipose tissue as part of the project to develop tissue engineered implantable devices for surgical repair of the peripheral nervous system.
The TERMIS World Congress involved more than 2500 delegates from 62 nations. Our group presented three posters in addition to Melanie's talk, describing the latest findings from our ongoing projects. Abstracts are available via Open Research Online.
Categories: News