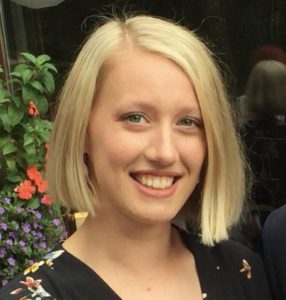 Project: Advanced formulations for treatment of nerve injury
Holly completed an integrated Masters in Chemistry at the University of Sheffield in 2018, which included a year in industry at IMERYS Minerals researching material chemistry of calcium carbonate-polymer films. Her Masters research project studied the inhibition of botanical enzymes through Michaelis-Menten kinetics. In the summer of 2017 she undertook a synthetic organic chemistry placement at Charles River Laboratories, and in April 2019 finished a three month placement at GSK investigating the direct compression manufacture of co-processed excipients for dispersible tablets.
Holly is one of the 2018 CDT in Advanced Therapeutics and Nanomedicines cohort. Her research aims to engineer an implant which will promote regeneration and restore function in peripheral nerve injury, using a combination of therapeutic cells, small molecules and novel material manufacturing.
Contact:
Email: holly.gregory.18@ucl.ac.uk
Twitter: @hngregory
Supervisors:
Dr James Phillips – Reader in Regenerative Medicine, UCL School of Pharmacy
Dr Gareth Williams – Associate professor in Pharmaceutics, UCL School of Pharmacy
Dr Stephen Hilton – Senior lecturer in Pharmaceutical and Bio Chemistry, UCL School of Pharmacy
Qualifications:
MChem – integrated Masters in Chemistry with Study in Industry (1st Class)