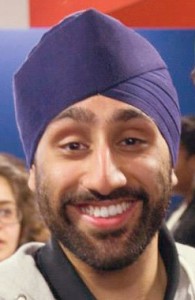 Research Student
Kulraj completed his undergraduate masters degree in Medical Engineering (MEng) at Queen Mary, University of London and graduated with first class honours.
His third-year project involved investigating the effect of oxygen tension on primary cilia structure and function under the supervision of Professor Martin Knight, Queen Mary, University of London. In his fourth year project, Kulraj worked closely with industry and focussed on optimising a prosthetic running blade for trans-tibial amputee athletes under the supervision of Dr Hazel Screen, Queen Mary, University of London and Professor Dan Bader, University of Southampton.
Kulraj has a strong interest in promoting the public understanding of science and has been involved in various local and national outreach activities such as the Big Bang Fair and The Times Cheltenham Science Festival.
In September 2014, he began his four-year Doctoral Training Programme in Medical Device Innovation at UCL Institute of BioMedical Engineering. The first year involved completing a Masters in Research in Medical Technology Entrepreneurship. This programme combined medical device research and development with training in translation techniques, enterprise and entrepreneurship. His subsequent PhD years involve combining tissue engineering, biomaterials and computational modeling techniques to develop living replacement tissue for repairing the nervous system.
LinkedIn: http://uk.linkedin.com/in/ksbhangra