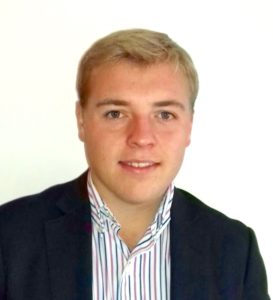 Matthew is a UCL medical student integrating a PhD focused on peripheral nerve regeneration with his ongoing clinical and surgical training.
In 2016, Matthew was awarded a first class BSc (Hons) in Medical Sciences with Neuroscience. An intrinsic component of this qualification was experimental work carried out at this research unit under the supervision of Dr. James Phillips (UCL Senior Lecturer in Biomaterials and Tissue Engineering) and Mr. Tom Quick (Consultant Peripheral Nerve Surgeon at Royal National Orthopaedic Hospital). Specifically, Matthew's work developed and optimised a novel immunohistochemistry protocol for use in human denervated tissue.
After competitive application, Matthew was one out of five medical students nationally to be awarded a joint elective prize from The Healing Foundation (now known as The Scar Free Foundation) and the British Association of Plastic, Reconstructive and Aesthetic Surgeons worth a total of £1700 to take his iBSc research further. The subsequent data and report received commendation from the Board of Trustees.
Together, this led to a successful UCL PhD application under continued supervision of Mr. Quick and Dr. Phillips. Matthew's research now has 2 principle areas of investigation:
1) To identify biomarkers in human denervated tissue that may be predictive of improved functional outcomes
2) To validate clinical outcome measures that can both quantitatively and qualitatively assess reinnervation in both rodent and human models of nerve injury
Matthew's project benefits from collaborations with the Peripheral Nerve Injury Unit based within the Royal National Orthopaedic Hospital, National Hospital for Neurology and Neurosurgery at Queens Square and the UCL Centre for Medical Imaging. Combined, this will provide both the patient populous and clinical expertise to translate his ongoing work in rodents in a cohort of nerve injury patients.
Matthew has also benefited from research appointments in both medical engineering (former Research Associate at ASPIRE CREATe (Centre for Rehabilitative Engineering and Assistive Technologies)) and biomedicine (Nuffield scholar under the supervision of Professor Robert Sutton at the former Liverpool PBRU (Pancreatic Biomedical Research Unit)). This work has been published and attracted national awards.
Outside of his studies, Matthew is an avid golfer. Matthew has achieved a handicap of 3 and was the 2015/16 Captain of London University Golf Club. His personal achievements as well as work to develop the University golf team were recognised by the England Golf Trust when he was appointed Young Ambassador in 2016.
Publications:
M. Wilcox, A. Rathore, D. Z. Morgado Ramirez, R. C. V. Loureiro and T. Carlson, "Muscular activity and physical interaction forces during lower limb exoskeleton use," in Healthcare Technology Letters, vol. 3, no. 4, pp. 273-279, 12 2016.
A. Rathore, M. Wilcox, D. Z. M. Ramirez, R. Loureiro and T. Carlson, "Quantifying the human-robot interaction forces between a lower limb exoskeleton and healthy users," 2016 38th Annual International Conference of the IEEE Engineering in Medicine and Biology Society (EMBC), Orlando, FL, 2016, pp. 586-589.