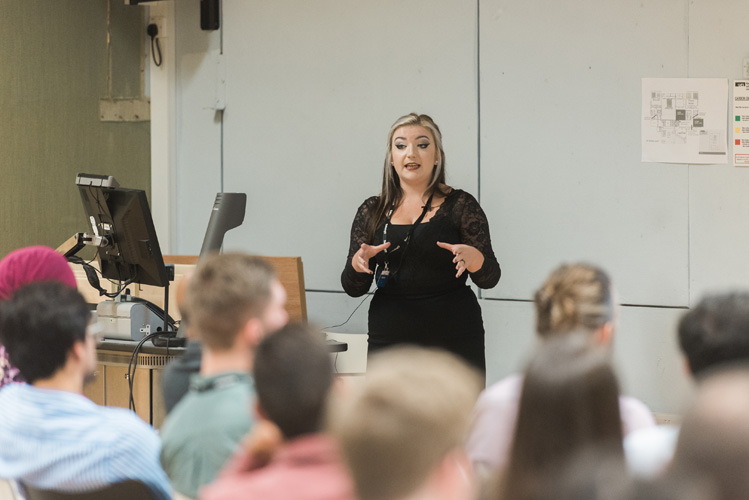 Project: The application of endothelial cells in peripheral nerve tissue engineering
Supervisors:
Prof. James Phillips, UCL School of Pharmacy
Prof. Parmjit Jat, Institute of Prion Diseases
Poppy is a LIDo-DTP student in the 2020 cohort. Her translational research centres on the application of endothelial cells in nerve repair conduits to improve peripheral nerve regeneration using tissue and cell engineering.
Prior to joining UCL, Poppy completed her integrated Master's degree at Durham University in Biology and Chemistry within Natural Sciences with a first-class honours in 2020. Her Master's project developed the liposomal delivery of TADF emitters for bio-imaging and bio-sensing. During her degree, Poppy received a Kew Royal Botanical Gardens-funded scholarship to bioprospect Aloe plants in Parkinson's Disease; and attended the John Innes Centre International Undergraduate Summer School where she worked on the characterisation of Magnaporthe oryzae effector proteins responsible for establishment of infection in staple crops.
Contact:
Email: [email protected]
Twitter: @poppyosmith
LinkedIn: https://www.linkedin.com/in/poppy-smith-b488ab1b8
Funding & Awards:
Guarantors of Brain Travel Grant (£400), 2022
UCL School of Life and Medical Sciences Conference Fund (£500), 2022
UCL School of Pharmacy Travel and Conference Fund (£500), 2022
Biomedical Engineering (BioMedEng) Society 2022 Conference, Best PhD Talk, 2022
London Interdisciplinary Doctoral (LIDo) Programme Annual Retreat Poster Prize, 2022
British Society for Plant Pathology Vacation Bursary, 2019
Publications:
Smith PO, Truman RP, Powell R, Gregory H, Phillips JB, Bohnhurst P, Rayner MLD. Exploring the Effect of Vitamins Bi, B6 and B12 on Neurite Regeneration using a 3D Co-Culture Model of Neurodegeneration. Int. J. Med. Rehabil 2023; 11(4):1000667
Smith PO, Jin P, Rahman KM. Strategies for drug repurposing against coronavirus targets. Curr. Res. Pharmacol. Drug Discov. 2022;3:100072.
Smith PO, Black DJ, Pal R, Avó J, Dias FB, Linthwaite VL, Cann MJ, Pålsson LO. Applying TADF Emitters in Bioimaging and Sensing-A Novel Approach Using Liposomes for Encapsulation and Cellular Uptake. Front Chem. 2021 Sep 1;9:743928.
Crucho CIC, Avó J, Diniz AM, Pinto SN, Barbosa J, Smith PO, Berberan-Santos MN, Pålsson LO, Dias FB. TADF Dye-Loaded Nanoparticles for Fluorescence Live-Cell Imaging. Front Chem. 2020 May 8;8:404.